Description
Teeth Whitening Kits are the market-leading providers of innovative and fast-acting home teeth whitening kits in Dublin. Buy a LED teeth whitening kit for only €59.95 delivered to your door within 2-3 working days. This is the perfect way to put a sparkle in your smile this summer and is also a great gift idea for a friend or loved one. With our premium home teeth whitening kits, you can achieve that Hollywood smile you have always wanted! Turn your yellow, stained, and dull teeth into a brighter and whiter shade of white in just a couple of weeks. Our professional home teeth whitening kits are very easy to use, very effective, and safe. Our kits will produce stunning results. If you feel your teeth are not as bright and need some love and care, then choose our teeth whitening kits to achieve the best results.
Each home teeth whitening kit comes complete with the following:
4 3ml non-peroxide bleaching teeth whitening gel syringes
Custom boil and bite mouth tray
Carry case
Instructions to ensure safe home treatment
Mini LED light with batteries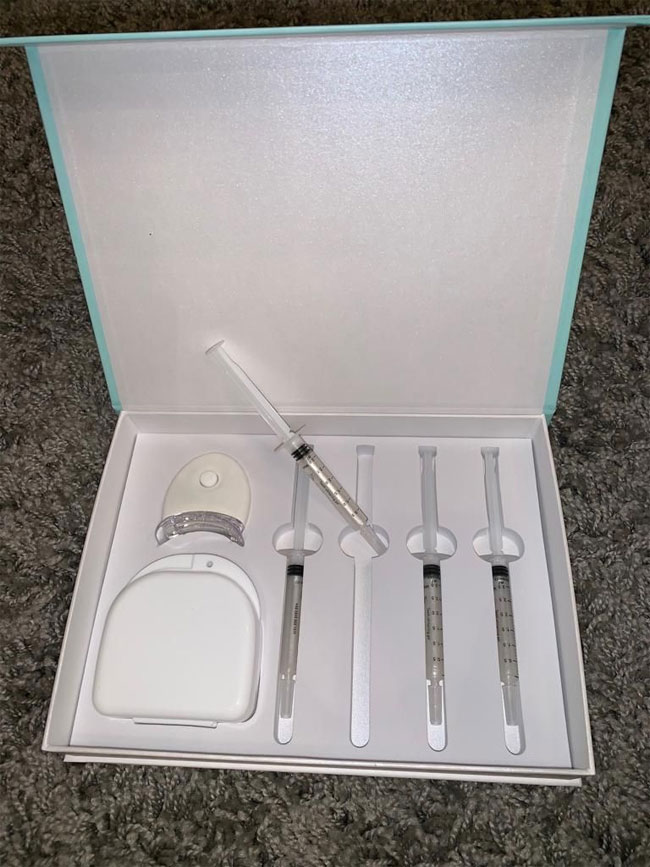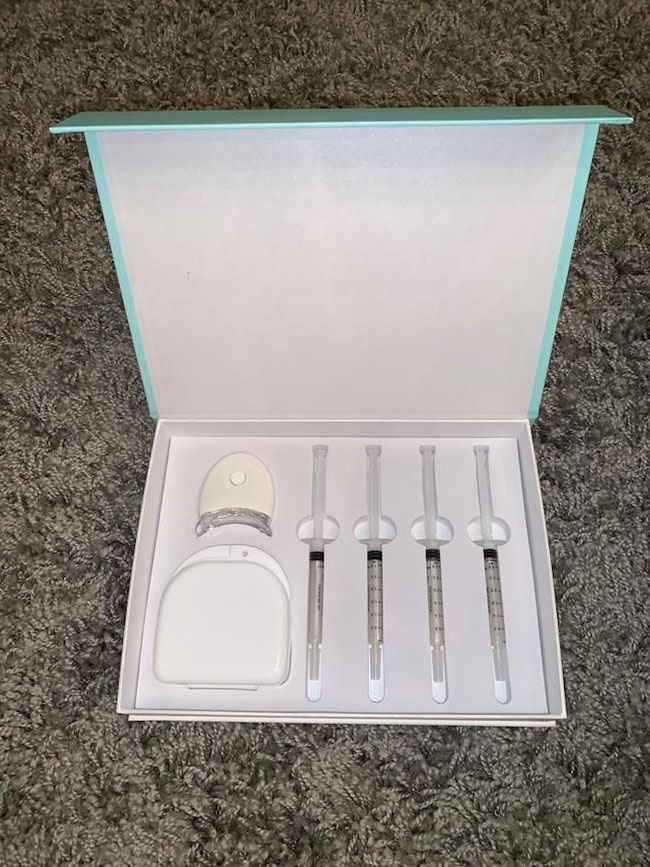 How does the Kit Whiten your Teeth?
Our premium LED teeth whitening kits are non-peroxide and combine all the latest innovative formulas which are 100% effective and safe to use in the comfort of your own home. The kit is safe for all ages and does not cause any tooth sensitivity. Once the kit is used on a regular basis you should notice your teeth becoming at least 3-4 shades whiter. If your teeth are significantly yellow and discoloured, you will notice greater results and a brighter and whiter smile in no time.
The sodium bicarbonate liquid goes deep into the teeth' pores and oxidizes the molecules that make the teeth appear dark, yellow, and stained, giving you a much brighter smile over time.
Once you have placed the whitening gel on the mould trays and placed it into the mouth, then simply turn on the LED light and the formula then becomes active. Oxygen will then be released causing pressure which will push the oxygen into the teeth' core. With the combination of cleaning agents, oxygen, and the LED light, our professional home kits will turn the teeth surface from yellow to white.
You can also combine our teeth whitening powder for ultra-fast results!
Sodium Bicarbonate
Peppermint oil
Water
Limonene
Glycerin
Sodium lauryl sulphate
Propylene Glycol
Silicon dioxide/photo initiator
Carbopol
Carbomer