Description
Everyone wants that sparkling white smile but for some of us, it can be tougher to achieve. Thankfully, with our Megawhite Teeth Whitening Kits, you can achieve that Hollywood smile. Turning your yellow, dull, and stained teeth into a brillant shade of white is only a few treatments away! Megawhite teeth whitening kits is a worldwide exclusive gel formula that no other product can compare to. Megawhite was founded by leading Scottish entrepreneur Bryan Christie in 2003. Over the years the company has evolved and has become one of the leading providers of teeth whitening kits in Scotland.
Our professional home kits will give you the same level of teeth whitening as an expensive dental procedure. Experience our exceptional, effective, and safe teeth whitening kits and find out just how fast and easy it is for you to achieve brighter and whiter teeth at home with Megawhite!
What's included in the kit?
Our teeth whitening kits contain:
4 3ml Non-peroxide bleaching teeth whitening gel syringes
Mini LED Light with batteries
Custom boil and bite mouth tray
Carry case
Instructions to ensure safe home treatment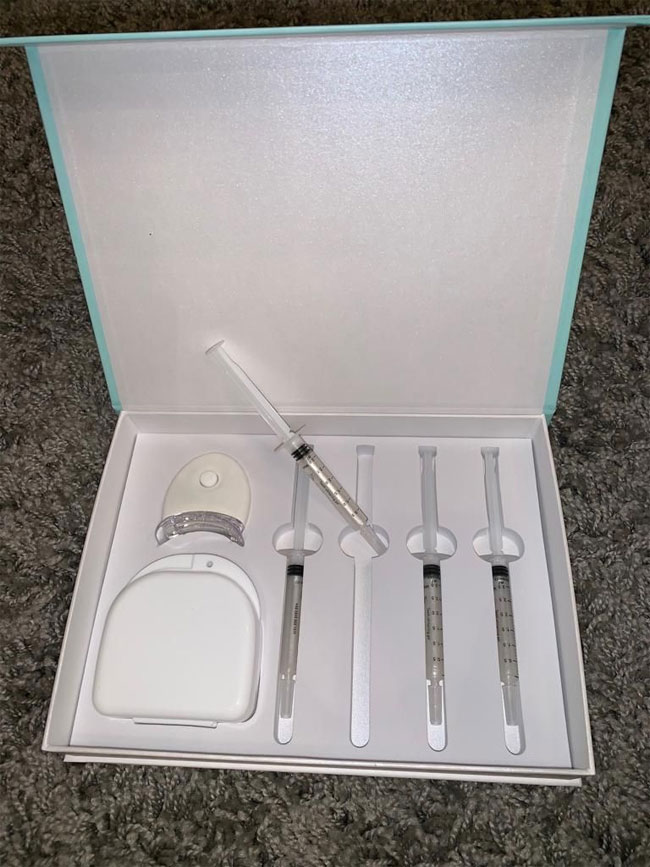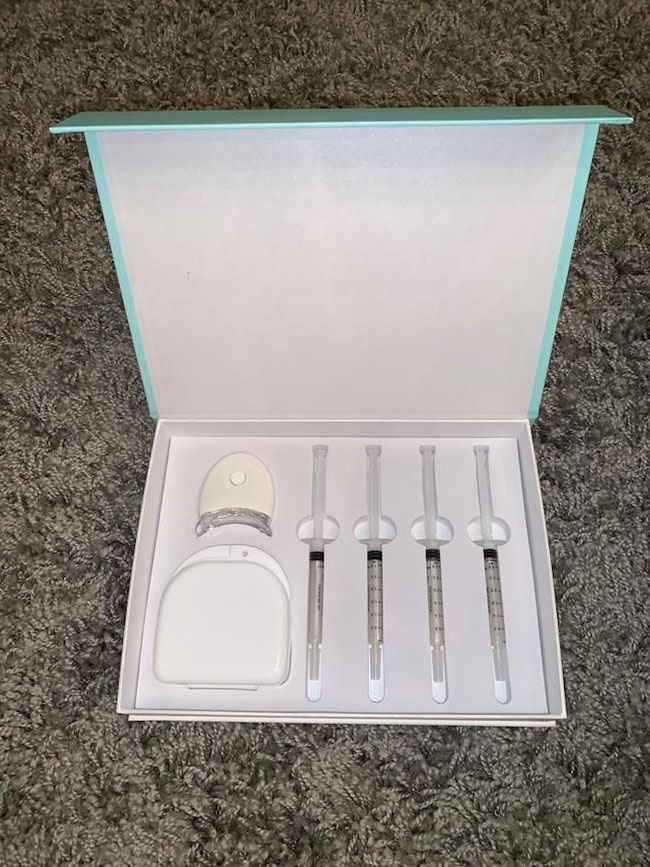 How does it whiten your teeth?
Home teeth whitening kits are very effective once used correctly. Once regularly used, you should see your teeth becoming at least 3 to 4 shades whiter. Those with teeth that are discoloured and yellow, you will see the greatest results and notice a brighter and whiter smile in no time. The main whitening ingredient is sodium bicarbonate. The liquid goes deep into the pores of the teeth and oxidises the molecules that make the teeth appear stained, dark, and yellow.
Once you have placed the whitening gel on the mould trays and placed into the mouth turn on the LED light, the formula then becomes active. Oxygen is then released which then creates pressure which pushes oxygen into the core of the teeth. The cleaning agents and oxygen combined with the light will turn the teeth inner surface from yellow to a white colour leaving you with a whiter and brighter smile.
Water
Sodium Bicarbonate
Glycerin
Propylene Glycol
Carbomer
Carbopol
Silicon dioxide/photo initiator
Sodium lauryl sulphate
Limonene
Peppermint oil